There are many different Cryptocurrencies and new projects in the market.
Many recent additions to Cryptocurrencies are very attractive to investors.
The market has a large amount of Cryptocurrencies for trading.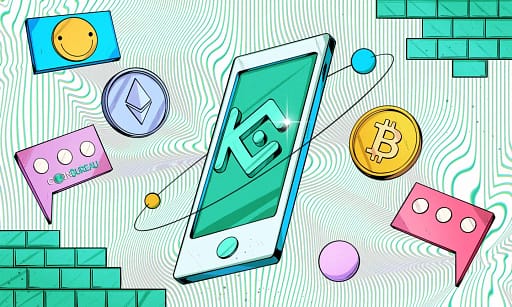 Let's look at some of the top Cryptocurrencies that can be purchased in December.
The top 5 best Cryptocurrency that Crypto whales are Purchasing in December 2022
Cardano
Cardano uses the PoS consensus to run transactions.
The platform uses smart contracts to enable the development of different DAPPS on its network.
Cardano has grown to be one of the most well-liked blockchains among developers and has produced more than one million NFTs on its platform so far.
It is popular because of its swift transactions and long-term scalability.
Cardano can process up to 250 transactions each second.
The recent activity of whales made Cardano part of this list tweeted.
Cardano (ADA) is back in the top 10 purchased whales in the last 24 hours.
ADA is one of the most used contracts among the top 2000 whales in the last 24hrs.
Bitcoin
Bitcoin is the most important cryptocurrency in the world. A whale investor as far as Bitcoin is the who claims 1,000 or more BTC tokens. The crypto whales tracker shows that almost 40% of the BTC tokens are held by whales. With a price of $17,210 the present moment, Bitcoin might be among the best Cryptocurrencies to purchase in December 2022. Eminently according to the data the live market capitalization of Bitcoin is $330.4 billion.
Reported on December 10, Whale alert tweeted that BTC whales have moved 9,901 BTC (169,772,480 USD) moved from obscure wallet to Kraken. Since BTC price have recently crossed $17k and up by almost 2% today shows top Crypto whales may purchase top Cryptocurrency in December 2022.

Ethereum (ETH)
Ethereum is an open-source decentralized blockchain framework with its own Cryptocurrency, Ether. ETH fills in as a platform for the execution of decentralized smart contracts as well as a platform for various other cryptocurrencies. Crypto whales generally have their eyes on Ethereum.
According to the tweet by on-chain platform Santiment on November 22, enormous Ethereum whales added almost 947,940 ETH worth more than $1 billion. As of late according to the tweet by Santiment data, on December 7, Whales and sharks have added more Ethereum (ETH) at the current price level, while prices vary around $1,230. This demonstrates crypto whales keeps on purchasing this top altcoin in December 2022.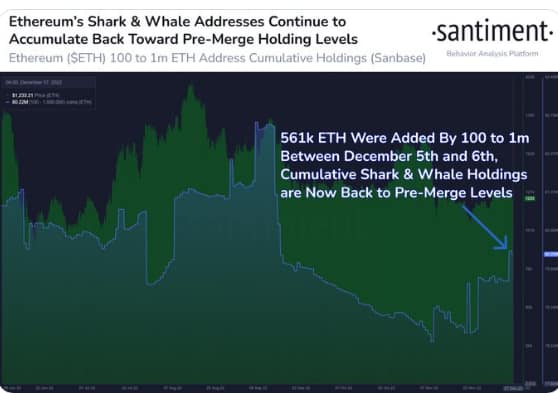 XRP
The native token of Ripple's open-source, permissionless protocol is called XRP. Ripple needs to be the top Cryptocurrency solutions provider for organizations by using blockchain technology.
While processing transactions on a worldwide scale, Ripple provides business and monetary institutions with straightforward, effective, and reasonable solutions. Outstandingly according to the tweet by whale alert on December 12, 49,926,217 XRP worth of $18,843,741 were transfered from Binance wallet to another obscure wallet.
Transactions for fiat Currencies, notable cryptocurrencies like Bitcoin, and, surprisingly, various commodities can be facilitated by the decentralized platform. With a price of $0.3721 at this moment, XRP may become the piece of whale purchasing list in the year 2022.
Battle Infinity
Battle Infinity is a decentralized project that utilizes blockchain technology to empower users and creators to participate in different play-to-earn (P2E) games. The project is grabbing the eye of crypto whales as a result of its energizing guide that remembers six new items for the NFT, DeFi, and gaming sectors. According to the forecast by McKinsey and Company, the metaverse could be worth up to $5 trillion by 2030. Remarkably, the objective of Battle Infinity is to make a vivid gaming world.

Battle Infinity's ongoing price is $0.001915 USD, with a 24-hour trading volume of $203,385 USD. As of now. The price has dropped 4.52%. There is no coursing supply and a most extreme supply of 10,000,000,000 IBAT coins.