Well, Elon Musk has let the cat out of the bag and has hinted about Dogecoin (DOGE) coming to the Twitter platform very soon. In his new tweet, Elon Musk shared a pic of the Shiba Inu dog breed wearing a Twitter shirt. Thus, this fuels the ongoing speculations that he could soon bring DOGE payments to his newly acquired social media platform.
This is the first time after the Twitter deal, that Elon Musk has publicly spoken about his favorite memecoin DOGE. The tweet has done enough to shoot the DOGE price once again. As of press time, DOGE is trading 15.68% up at a price of $0.13 with an $18.3 billion market cap.
On a weekly chart, DOGE trades at more than 125% gains. Since the rally on the weekend, the social interest in the cryptocurrency has spiked considerably. As on-chain data provider Santiment reports: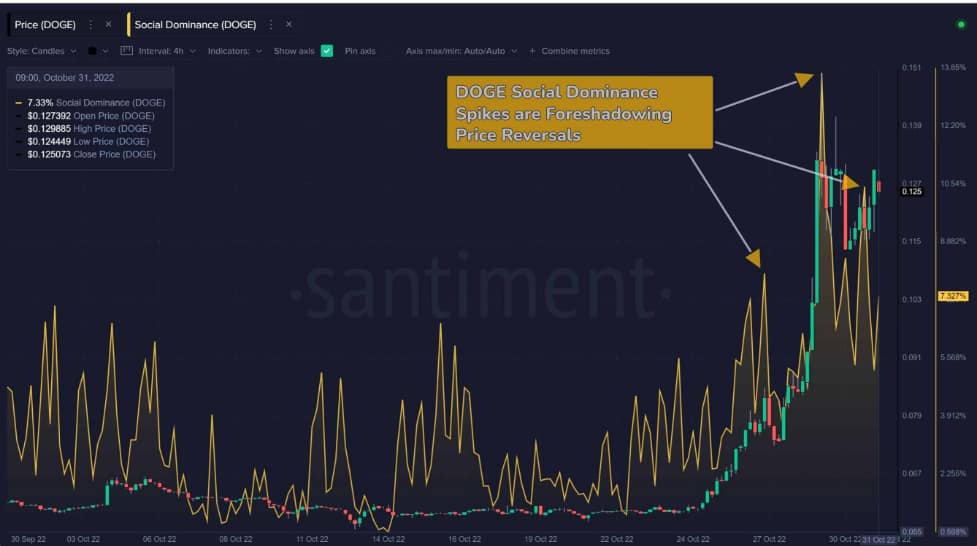 Elon Musk and Dogecoin
Throughout recent years, Elon Musk has been a ardent supporter of Dogecoin. As a matter of fact, Musk believes Dogecoin to be better than Bitcoin for making daily payments in crypto.
Musk's support for Dogecoin has led several rallies previously. Indeed, even with the new tweet, the DOGE price shot up straight by 15% within minutes. Many market analysts accept that with Elon Musk acquiring Twitter, DOGE payments could soon come to the social media platform.
DOGE has staged a phenomenal rally and is currently trading at levels last seen in May 2022 preceding the market crash. Cardano founder Charles Hoskinson has additionally shown interest in getting DOGE to Twitter.

Furthermore, he also said that Dogecoin can operate as an ADA sidechain and would do the integration for free.
CryptoNewsOrg– BINANCE – GET UP TO $700* ON SIGN UP
1) $100 Spot Trading Bonus*
2) 20% Trading Fee Discount For Life*
3) Plus $500 Unlockables*
Sign-Up Links: Binance Global,
For more details visit the Binance Bonus Offer Page
*Terms & Conditions Apply