Enormous whale transactions in stablecoins like USDT and USDC hints to significant volatility in the crypto space.
After last week's strong market rally, the cryptocurrency market has taken a bit of pause holding over the $1 trillion valuation. To understand what could be the market activity ahead, it will be crucial to spot the activity of stablecoins like USDT and USDC.
On-chain data shows that there has been huge whale activity in stablecoins Tether (USDT) and USD Coin (USDC). These transactions show that there will be major volatility going ahead. On-chain data provider Santiment reported: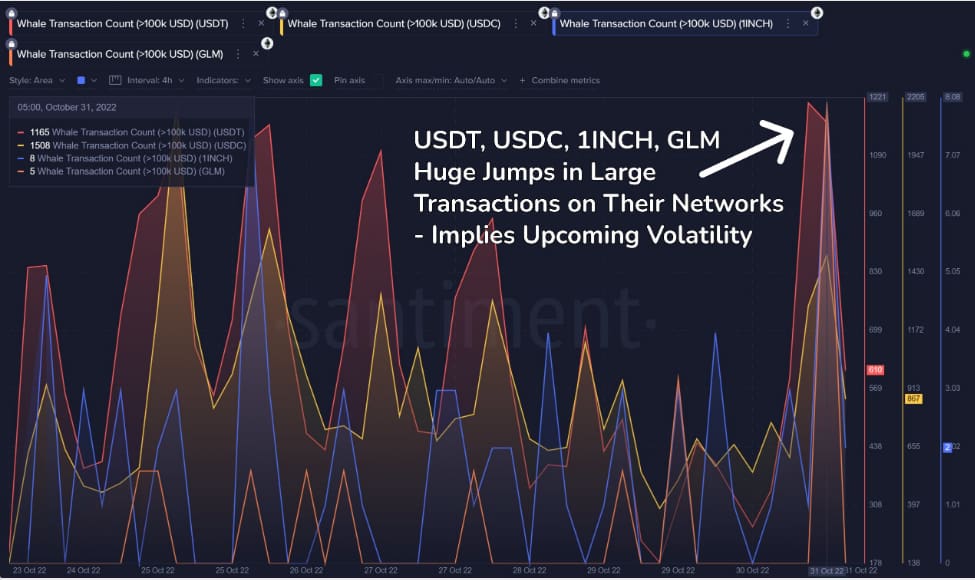 Considering the current market runup, it won't be wrong to speculate that these whales could be heading for a crypto buying spree taking this bull run further.
DoJ Revives Investigation In Tether USDT
After months of stagnation, the U.S. Department of Justice is planning to revive the investigation into Tether executives allegedly committing bank fraud. As per the Bloomberg report, U.S. Attorney Damian Williams in the Southern District of New York (SDNY) will be leading the Department of Justice's (DOJ) probe.
The USDT stablecoin issuer also said that they have increased their cooperation with the DoJ over a period of time. However, Tether said that its executives haven't talked to DoJ over the year. It also said that the law enforcement agency isn't "actively investigating Tether".
Tether also slammed Bloomberg for its fresh report adding: "Bloomberg has proven themselves time and time again to be desperate for attention in an industry that they just do not understand".
CryptoNewsOrg– BINANCE – GET UP TO $700* ON SIGN UP
1) $100 Spot Trading Bonus*
2) 20% Trading Fee Discount For Life*
3) Plus $500 Unlockables*
Sign-Up Links: Binance Global,
For more details visit the Binance Bonus Offer Page
*Terms & Conditions Apply